The LUXMAIN twin-cylinder LUXMAIN in-ground car lift is a great choice for you. why? This series of Underground Car Lifts 2 Post uses a special balancing device to ensure the synchronization of the two lifting columns, and the electro-hydraulic driving method makes the lifting safety and stability even better, which will make you have a A beautiful working environment.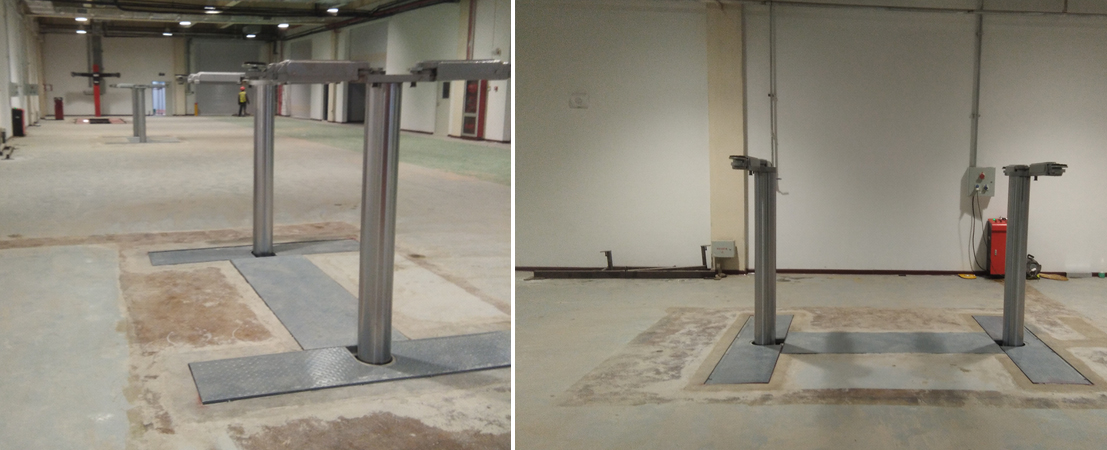 1. Underground Car Lifts 2 Post is widely used in industrial and mining enterprises for factory maintenance, municipal construction, decoration and decoration of hotels and hotels, with reliable quality and perfect performance.
Second, the user can select the power mode and configuration according to their own scope of use:
1. Power system: battery DC power supply, single-phase or three-phase power supply, diesel engine.
2. Walking: Auxiliary self-propelled, two-wheel traction, self-driving, and car-modified.
3. Legs: mechanical legs, hydraulic legs, ordinary hand-legs, pull-out legs, fully automatic telescopic legs.
4. Control system: explosion-proof electronic control system, remote control system, PIC digital display control system.
5. Hydraulic pump station: special pumping station for domestic lifting platform, divided into (vertical, horizontal, explosion-proof, AC and DC) Italian imported pumping station
6. External protection device: organ cover type, mesh type, iron plate sealed type.

Company Information:
LUXMAIN Precision Industry Co.,Ltd was founded in 2007, locates in Yantai City. We are a manufacturer of inground car lifts and a member of China Automobile Maintenance And Repair Equipment Trade Association.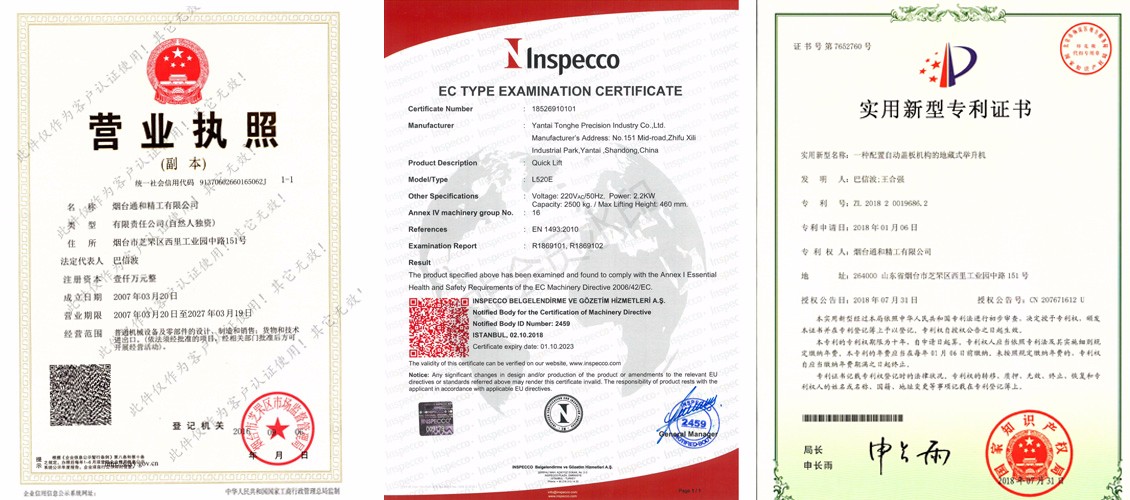 Equipped with over 100 sets of advanced manufacturing equipments and precision inspection instruments, LUXMAIN dedicates in the design & development, manufacturing and services of inground lifts, hydraulic cylinder and hydraulic control system. The annual production capacity in inground car lifts reaches 10,000 sets, specialized high pressure oil cylinders reaches 40,000 pieces and hydraulic control system reaches 10,000 sets. The products are mainly car jack lift, Quick Lift, Inground Lift, etc. Our products are widely applied in Automotive Industry, Vehicle maintenance, Construction machinery etc.
FAQ:
1.How about the package of the quick lift and the capacity of one 20'container ?
The lifting frames are packaged individually in cartons and the power unit is packaged in wooden cases. Each 20-foot cabinet can hold 75 sets of equipment。
2.Can the quick lift be used on a sloped ground?
To the extent of ensuring the safety of vehicle and operator ,Slopped ground or non-hardened ground is not recommended used
Is Luxmain quick lift can be used on glass steel grille? What is the minimum thickness of glass steel grille
Can be used on glass steel grille , but the glass steel grille can not be overhead.
Shown as below:。
3.Can the power supply of LUXMAIN Quick Lift be 110V or 380V?
The 110V power supply can be realized by supporting the corresponding 110V power unit; for safety, the 380V power supply is not recommended.
By changing the power outlet, it can adapt to the power interface standards of all countries in the world.
4.What is the weight of Luxmain Quick Lift?
The single-sided lifting frame weighs approximately 42kg and is equipped with a roller that can be dragged or translated. The power unit is about 23kg.
5.What is the warranty of Luxmain Quick Lift ?
One year